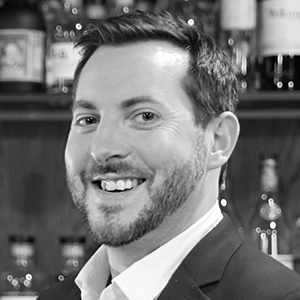 Angus Russell
Scotland Sales Manager
Angus is our Business Development Manager for Scotland. Having tried a huge variety of hobbies including equestrian vaulting, audio engineering and even an attempt at rock stardom... Angus decided his skills would be best put to use working in the hospitality sector where he worked his way up from the lowly pot washer to managing some of Scotland's finest hotels and restaurants. 
Having developed a passion for cocktails and spirits, Angus started working with Scott Gemmell at LA Group, bringing Glasgow bartenders new and exciting products to work with. Later on, Angus seized the opportunity to head up the Premium Brands division at Inverarity Morton; training bartenders on all aspects of spirit production and use.   In February 2022 Angus created a travelling trade show for Scotland's hospitality professionals called "I brought my own Ice" which focuses on quality spirits and Seminars debunking myths about alcoholic beverages and promoting sustainable practices.
Angus invests as much time as he can into helping Scottish bartenders and bars achieve their full potential and particularly likes creating bespoke events and cocktail menus for venues which have a creative edge.