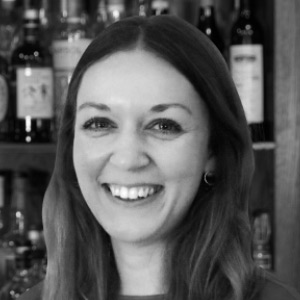 Eleanor McCabe
Trade Marketing Manager
Initially working across both the sales and marketing teams, Ellie progressed into a Customer Marketing role, and from here, began her studies with the Chartered Institute of Marketing, to further enhance her skill set.
Several years of hard work and late nights spent studying later, she achieved her Diploma in Professional Marketing, with a special focus on Strategic Marketing. Some further study garnered Ellie the much coveted chartered status, completing the Continued Professional Development programme.
Ellie went on to work in numerous Customer and Brand Marketing roles over the past 12 years, and brings with her valuable experience in Premium and Super Premium spirits, for the Specialty Brands Team.
Living in Epping Forest, Ellie enjoys spending as much of her free time outdoors as well as in cozy pubs on Sunday afternoons with her family and rescue dog Monty.
Monty can often be found completing agility training with Ellie in tow, and the pair love jumping over balance beams and sea saws together.