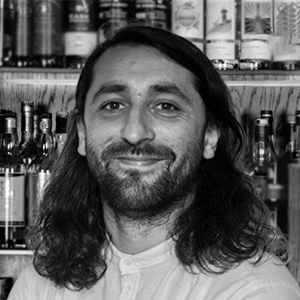 Jaz Arwand
Business Development Manager, South London
Jaz has been working in the drinks industry since the age of 17, when he learnt how to change his first keg in The Railway – a pub which sadly no longer exists. Taking the name "Jaz" almost too seriously, he went on to study Music Production and Business at Surrey University.
These two passions collided when Jaz began working at Piano Bar in Guildford, where his mixology career truly began. A few stints at various bars later, Jaz comes to Speciality Brands with a wealth of knowledge and experience under his belt. These include the world-renowned Worship Street Whistling Shop and Black Rock, where he learnt all things distillation, fermentation, and anything that added in 'ation, before jumping into sales with Fever-Tree. Jaz has also worked on The Gin Journey since 2013, chatting all things juniper to guests around London.
Jaz' passions include music, golf, and having a laugh with friends in the pub, and his Sprocker Spaniel, Mac (named after Annie Mac) is his pub companion. In his spare time, you'll find Jaz in boujee dog-friendly pubs across SW London – after a long walk of course!