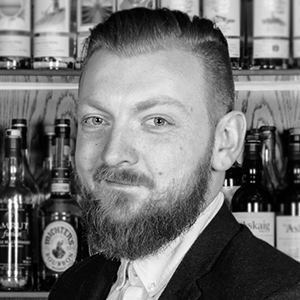 Nathan Shearer
Whisk(e)y Ambassador
Nathan is the first good news of 2018, having joined the team straight after NYE celebrations. Working alongside Stef to bring our amazing whisky portfolio to life, he joins Speciality Brands from the award winning Swift in Soho, a bar that celebrates all that is good in whisky.
Nathan has spent the last 13 years in the hospitality industry, almost half of his life. He has worked in kitchens, events, restaurants and some of the best bars in the world – including the renowned Callooh Callay and Swift, both of which were awarded trophies from the Spirited Awards at Tales of the Cocktail during his tenure behind the stick.
When not waxing lyrical about the benefits and drawbacks of tropical aging, different strains of barley or shapes and sizes of stills, you'll probably find Nathan slurping ramen, filling his closet with Japanese denim, or scouring the markets of east London for the best beard balm. Failing that, he'll be at a bar with a daiquiri in hand.