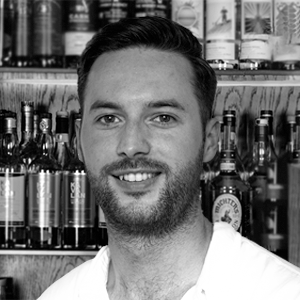 Tom Guillon
Assistant Brand Manager
After studying Business Management with a focus on marketing within the drinks industry, Tom knew that a long and exciting career in this space lay ahead of him. Having been enamoured with the world of brewing and craft beer, Tom began his career at Budweiser Budvar, helping them to implement a global brand refresh and building their position as the national brewery of the Czech Republic. This entailed varied responsibilities from supply chain and logistics, to digital marketing, to events management.

Keen to take on a fresh new challenge and to broaden his horizons, Tom set his sights on the intriguing world of spirits. He would soon swap the hilly streets of Bristol for the towering cityscape of London to join the fantastic team at Speciality Brands working on their illustrious portfolio of premium spirit brands. Tom's focus particularly lies with growing our brands on Amazon, executing best-in-class on trade activations, and managing Ilegal Mezcal.

Outside of work, you can find Tom running and weaving through the streets of London in preparation for a marathon that he says he'll do…one day. He loves nothing more than cooking for family and friends, with a particular penchant for spending hours in the kitchen presiding over slow cooked meat!